We sat down with Emily, the Health Coordinator for an Independent School in the Bay Area in California, to talk about how the pandemic has affected schools.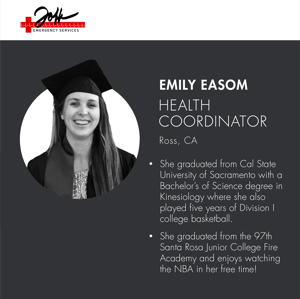 Emily, who has worked at her school for three years but only became the Health Coordinator this past July after completing her education, says that the current focus for the school and indeed the rest of the county is keeping in-person learning safe. She says that students are on campus four days a week, with Wednesdays being reserved for thorough deep cleaning of the school.
Her job, she says, is to organize and focus on the protocols related to COVID 19, including testing and the distribution of information to faculty, staff, and parents as it comes to light. Unlike a traditional school nurse, who deals in the day-to-day injuries that happen on campus (although this is part of her job, too), Emily's focus is on keeping up with the wider problems the virus presents to her school.
Her school went into mandatory closure with the rest of the country earlier this year, meaning that the focus was squarely on remote learning, which was frustrating for Emily and her coworkers. "It's a whole new class that you aren't able to meet in person," she says, "which is frustrating." She says that, because of the limitations of Zoom and other communication platforms, she and her coworkers had to work especially hard to connect with and help the students succeed. She worked closely with the local health department, and, when the rate of cases dropped enough that the county was in the Red Tier on the local system, she was excited to help facilitate reopening.
Despite precautions, it's inevitable that reopening would lead to some infection, and Emily's school recently had its first case. "It was hectic," she says. "It came late on a Thursday, which was trickier." She said that because the news came so late in the day, it was a bit of a scramble to make sure that the right precautions were taken and that all the right information was sent out to staff and parents alike.
There was no avoiding a certain amount of panic, but thanks to her team's dedication, the affected students were able to be quarantined and isolated as necessary, and she was able to reassure the parents as much as possible while still finding answers on both sides of the equation. She's thankful for her team's quick work and dedicated effort and recognizes that this first case was a learning experience for everyone involved.
When asked if she had any advice for parents who are trying to keep their children safe during the pandemic, Emily said that parents should know that, while the staff is doing everything in their power to keep the on-campus learning as safe as possible, they cannot control what happens off-campus. She asks that parents recognize that the risks they take, in gatherings or anything like that, are going to be risks not only to themselves and their families, but to the entire community at the school, and to be mindful of that. She advises parents to be mindful of the difference between quarantining, which is to keep to your own household after an exposure risk, and isolation, which is to be completely cut off from everyone after testing positive for COVID 19. It's important, she says, not to put yourself under the stress of isolation unless you absolutely have to.
Above all, Emily advises parents and teachers alike not to panic. As long as you're following all of the federal and local guidelines for your safety, you can be assured that you are as safe as possible. These guidelines are in place for your protection and are there to make sure you aren't exposed. She asks that you trust those who are trying to follow them and trust the information that trained professionals like her are offering you.