As the school year picks back up at its typical leisurely pace (a joke!), we're welcoming smiling faces back to campus, both familiar and brand-new. While we love all the members of our school community equally, we're going to focus on the newbies today. One of the things new members of your community will learn is the safety measures you have in place. Perhaps the first place they will experience your school safety program is during parent pick-up and drop-off.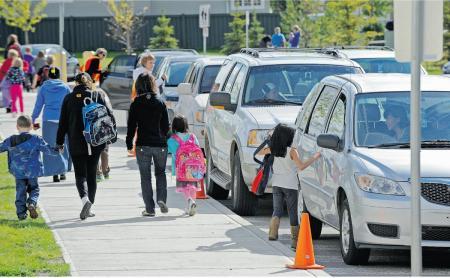 This is an element of school safety that is often under discussed, yet critical in keeping schools secure. Let's check out some ways to ease the transition of new parents and create trust in your school's pick-up and drop-off procedures.
Utilize Security: If your school has on-campus security officers, make sure they are a clearly visible and integral part of the traffic process. Not only does this curb the impulses of some of the more aggressive parent drivers, it reminds your school community that you become responsible for student safety the moment they arrive on the grounds, and how seriously you take that responsibility. Additionally, anyone departing from whatever your school's traffic pattern is must be questioned by a security officer. The sheer amount of people arriving on school grounds at these times of day creates vulnerability that must be matched with vigilance. If your school doesn't have on-site security, but does have the morning or afternoon resources to spare, consider assigning a no-nonsense employee to the tasks of monitoring traffic and minimizing "dallying."
Communicate About the Community: Obviously, each and every school has a unique relationship with the surrounding community. What is shared between all these schools is the fact that they have some sort of impact on the community around them, and new parents must be made aware of that. Many of our Joffe partner schools face an issue of limited space on campus, and so the crush of cars descending on the school in the morning and afternoon spills out into streets and neighborhoods in the area. This could lead to a strained relationship with your school's neighbors (never a productive thing), a spate of traffic tickets for those picking students up (creating another line of frustrated parents in your office), or winding traffic jams that have a serious negative effect on both school mood and school functionality. You may need to repeatedly emphasize these points to parents, but everyone will be better off if they learn how to be responsible neighbors to the surrounding area.
Increase, Improve, and Highlight Signage: Not to harp on the patently clear message of the last paragraph, but each school will have different needs in the signage area as well. Most schools note the campus speed limit in multiple areas (if yours doesn't, it should!) as well as other warning signs that are needed for your particular environment. This can be a cost-effective way to increase safety and draw attention to best practices for your school's traffic patterns. Parents can avoid emails and ignore letters, but you can't miss a bright instructive sign!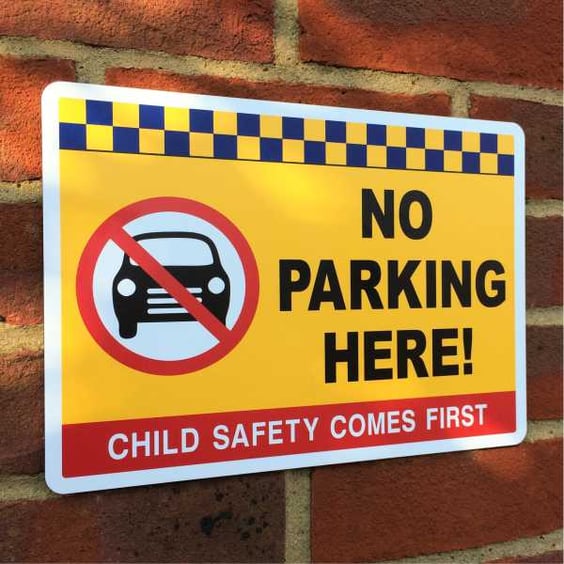 This school safety sign comes from the UK, so just imagine seeing it from the other side of the road.
Even for a topic as seemingly confined as traffic on campus has more to discuss than can be contained in this blog. Depending on the grades your school serves, you may need to deal with the horror of motorized teenagers and if/where they're allowed to park on school grounds. Activity buses from visiting school teams will need a parking process, as do vendors with large vehicles or vans delivering packages. We haven't even touched on ensuring that emergency vehicles can quickly access your campus and its essential infrastructure. Hopefully, this blog serves as a starting point for your school's analysis of how to keep students and campus safe during times of high traffic!