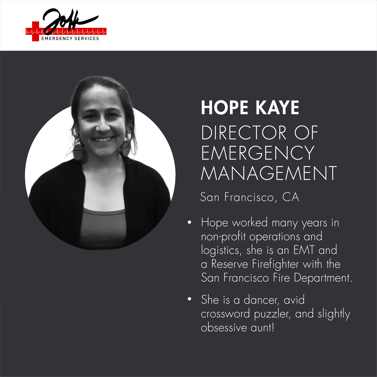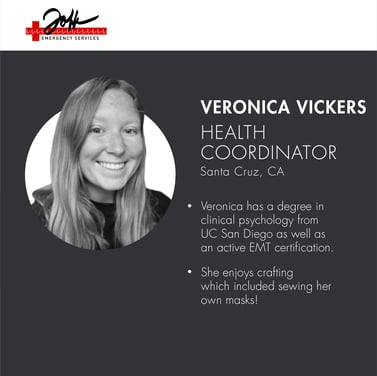 Recently, we at Joffe have been holding monthly training sessions to help our community build their confidence in a variety of skills related to emergency management on a school campus. We sat down with Veronica Vickers, one of our wonderful School Health Specialists. Veronica has been working with us since summer of last year and has gone from simply attending these seminars to helping Hope Kaye, our Director of Emergency Management, to put together the curriculum and resources for them. We asked her to talk about those training sessions and her experience with them.
Veronica describes the training sessions as imitations of actual scenarios and a step-by-step walkthrough of how to handle them. Describing how Hope has engineered the encounters to feel real, Veronica says that Hope is "thorough" and detail-oriented in that she makes sure to cater to the specific scenario and its application to her trainees on their own campuses. "She does a really great job with that," according to Veronica.
The first of these training sessions covered running a debrief for an emergency incident, which, says Veronica, is extremely relevant to not only health specialists like her and our Health Coordinators but to other school administrators who need to work with the children directly. She described that the training went over the general practices of a debrief, what information to give and how to do so, as well as breaking down the process along the timeline, from the beginning of the scenario all the way through the end of that specific incident and into steps to take to move on from it.
The next training session, coming up later this month, will cover contact tracing. Veronica thinks of this as a very apt topic, given the recent holidays, which she, like many public health officials, expects to cause major spikes in COVID-19 infection rates. She says that having up-to-date information like that given in the training session is vitally important for keeping on top of the pandemic as it continues to be a part of our daily life.
When asked about her favorite part of the experience, Veronica cites Hope's insistence that everyone in attendance of these sessions participates. She says that this input from several different perspectives, that of coordinators, school staff and administration, and experts like Hope, is an amazing way of becoming more well-rounded in her own work.
She also says that this is the most challenging part of the training in that it can be hard to speak your piece in front of such a large group, even virtually. Veronica says that she appreciates that aspect of it as well, though. "It helps you get in the mindset of a leader," she explains, saying that participating in this way, sharing your experience and information, lets you learn to contribute in real emergency scenarios in a more meaningful and effective way.
"Hope has done an amazing job," says Veronica, of her efforts to make the information applicable and accessible to everyone. "It's not just a sit-through-it-and-leave thing. People carry this stiff into their daily lives." Veronica says that she's happy to see people taking the information she and Hope work so hard to deliver and applying it with such confidence.
If you're interested in attending these training sessions, especially our Contact Tracing training on January 29, you can find more information about them here.